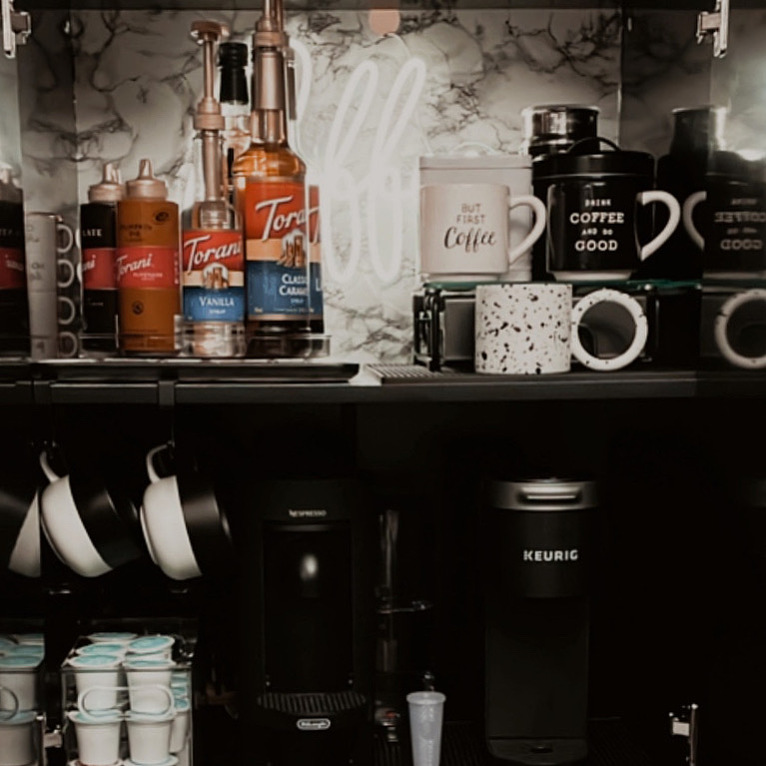 Sadly, I have a confession to admit! I've become a coffee and tea addict since I've gotten older, and now I'm obsessed with everything related to coffee. It doesn't help either that when I need a boost the caffeine helps. Not sure where it actually started because when I was younger I hated it, but slowly changed over time. As I currently type this DIY cabinet overview, I'm drinking a French vanilla cold brew. In becoming this coffee enthusiast over the years I have acquired a lot of in home brewers. These include the Nespresso, Moka pot for classic/Italian brewing, and a newly gifted Keurig single cup brewer. Obviously as my growing collection of new barista devices, continued to grow, I soon became somewhat overwhelmed. Which brought up the question, "Where to place brewers without taking up too much counter space in my kitchen?"
Finally, after much research (the librarian in me) I decided to create a cabinet coffee bar to house all of my brewers. This cabinet could not just be a normal coffee bar. I wanted to design a fun place to prepare new brews, while having an entertaining space for myself and others. I wanted a cabinet design that could be artistically, modern and minimalist, and aesthetically pleasing to my décor. After completing my designs on paper, it was time to select the appropriate cabinet which proved to be challenging. Most coffee bar/cabinet setups are open designs, and not able to be closed in to hide the machines. So, because I wanted that open/closed door aspect when not in use, searching for the right cabinet was not initially easy. I did searches on the usual furniture sites like Amazon, Overstock, and IKEA finding nothing. Later on that same week I came across a modern black display cabinet on Bed Bath & Beyond by the company Manhattan Comfort that piqued my interest. I hit the purchase button, and the rest was history.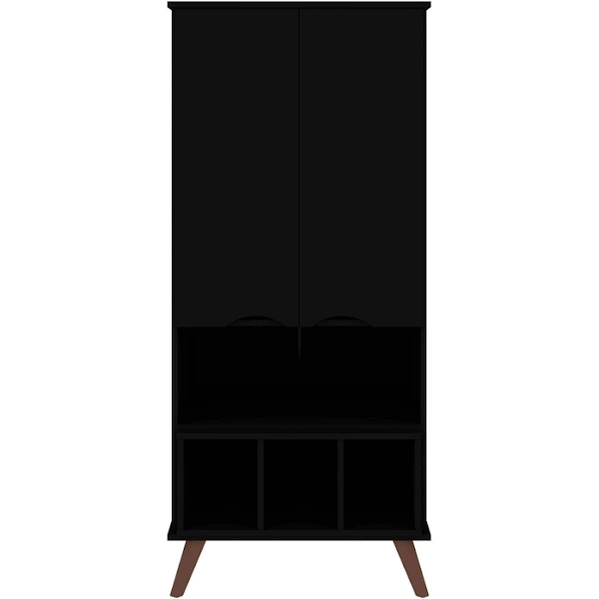 Long story….that was already too long, is that the first shipment came late and broken. I was told that due to the pandemic, the shipping carriers have been messing everything up. Eventually after returning the first, the second shipment was on time and in perfect condition. I love the cabinet's mid century modern minimalist look in the black colorway and disagree with most reviews saying it looks cheap because it has a shiny sheen. Not only does this cabinet have interior storage behind the doors, but the bottom shelves helped me add a mini library at the bottom. Thanks for listening to my coffee bar cabinet rant on my design process. Below is what you are really here for! The links to everything I purchased, to make it possible. Enjoy!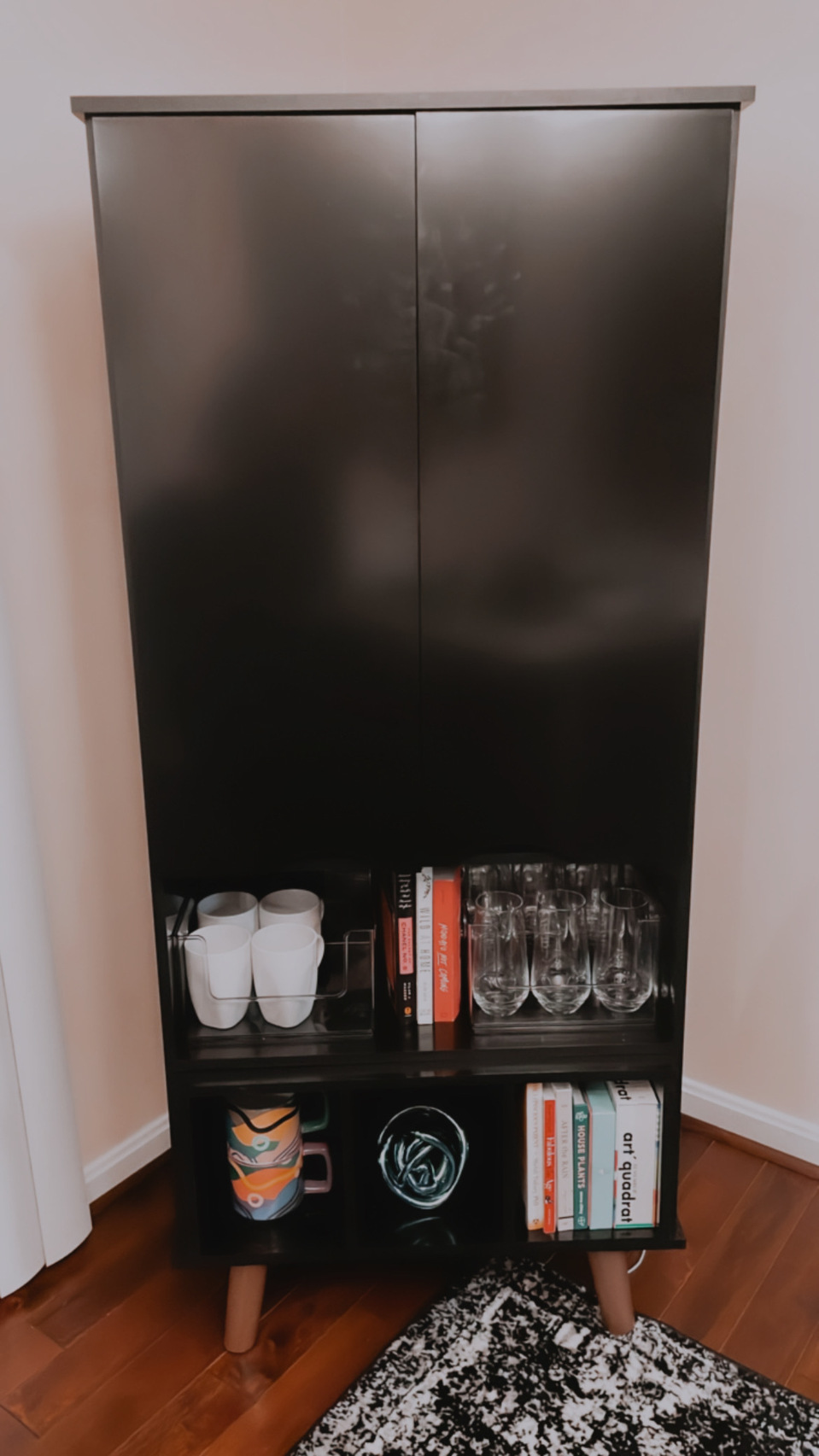 DIY Coffee Bar Cabinet List (Just copy and paste into search bar)
-Manhattan Comfort Hampton Display Cabinet in Black
https://www.bedbathandbeyond.com/store/product/manhattan-comfort-hampton-display-cabinet/5525212?skuId=69606778&mcid=OS_googlepla
-Nespresso Vertuo Plus Coffee and Espresso Machine by De'Longhi
https://www.target.com/p/nespresso-vertuoplus-coffee-and-espresso-machine-by-de-39-longhi-8211-black-matte/-/A-54498718?ref=tgt_adv_XS000000&AFID=google_pla_df&fndsrc=tgtao&DFA=71700000012806756&CPNG=PLA_Appliances%2BShopping_Local%7CAppliances_Ecomm_Home&adgroup=SC_Appliances_Coffee+Makers+%26+Accessories&LID=700000001170770pgs&LNM=PRODUCT_GROUP&network=g&device=c&location=9061283&targetid=aud-1453399007696:pla-1439047010324&ds_rl=1246978&ds_rl=1247068&gclid=CjwKCAiAo4OQBhBBEiwA5KWu_91UtQSDqIu4uux3bQ7JsZkc14LIkKVlPoHZfsO8Sk-r9-uz69ESEhoCIM8QAvD_BwE&gclsrc=aw.ds
-Keurig K-Mini Coffee Maker, Single Serve K-Cup Pod Coffee Brewer, 6 to 12 Oz. Brew Sizes, Matte Black
https://www.amazon.com/Keurig-K-Mini-Single-Serve-Coffee/dp/B07GV2S1GS/ref=sr_1_4?crid=39UT5CLDLI11U&keywords=keurig%2Bsingle%2Bcup&qid=1644239609&s=home-garden&sprefix=keurig%2Bsingle%2Bcup%2B%2Cgarden%2C68&sr=1-4&th=1
-Black dip coffee mugs by CB2
https://www.cb2.com/black-dip-coffee-mug/s463792?localedetail=US&a=501&campaignid=10363910333&adgroupid=103409810139&targetid=pla-1479196035074&pla_sku=463792&pcat=HSW&scid=scplp463792&sc_intid=463792&gclid=CjwKCAiAo4OQBhBBEiwA5KWu_zSjw4GqTbft363EmvJ-98bJgwE4LFFHfoxQ-uKzT6FZ2H9VtSMiGRoCHS4QAvD_BwE
-Speckled mug Amazon
https://www.amazon.com/gp/product/B098YLN1RT/ref=ppx_yo_dt_b_asin_title_o06_s00?ie=UTF8&psc=1
-Black and White aluminum coffee cans (Target's Bulls Eye Playground)
-Coffee Mug Holders
https://www.amazon.com/gp/product/B08XQ42MG8/ref=ppx_yo_dt_b_asin_title_o03_s00?ie=UTF8&th=1
-Marble contact paper
https://www.amazon.com/gp/product/B07VGW4LHV/ref=ppx_yo_dt_b_asin_title_o07_s00?ie=UTF8&th=1
-Syrup Pumps (Gold)
https://www.amazon.com/gp/product/B01N2VB05L/ref=ppx_yo_dt_b_asin_title_o05_s00?ie=UTF8&psc=1
-Tempered Glass Nespresso Pod holder
https://www.amazon.com/gp/product/B08LVCH15L/ref=ppx_yo_dt_b_asin_title_o06_s00?ie=UTF8&psc=1
-Nestle Nespresso Aeroccino3 3594 Black Milk Frother
https://www.amazon.com/Nespresso-Aeroccino3-3594-Black-Frother/dp/B00EKK1X1Q/ref=sr_1_6?crid=2F22ZGWRJD08W&keywords=nespresso%2Bfrother&qid=1644244946&sprefix=nespresso%2Bfrother%2B%2Caps%2C76&sr=8-6&th=1
-Torani Caramel Sauce
https://www.target.com/p/torani-caramel-sauce-16-5oz/-/A-82751385#lnk=sametab
-Torani Dark Chocolate Sauce
https://www.target.com/p/torani-dark-chocolate-sauce-16-5oz/-/A-82751386
-Torani Syrup Variety Pack
https://www.amazon.com/Torani-Variety-Caramel-Vanilla-Hazelnut/dp/B01NAV05XS/ref=sr_1_2?crid=2J3S5YK1O8EDO&keywords=torani+syrups&qid=1644245117&rdc=1&sprefix=torani+%2Caps%2C86&sr=8-2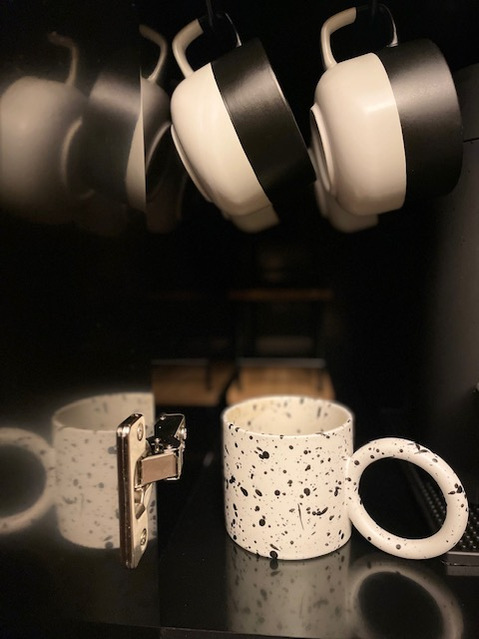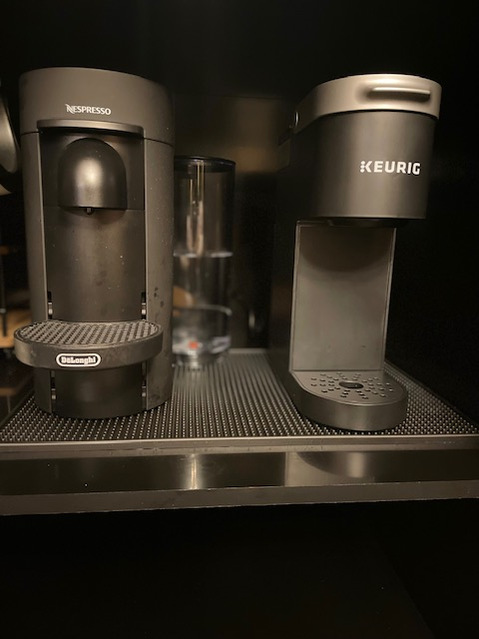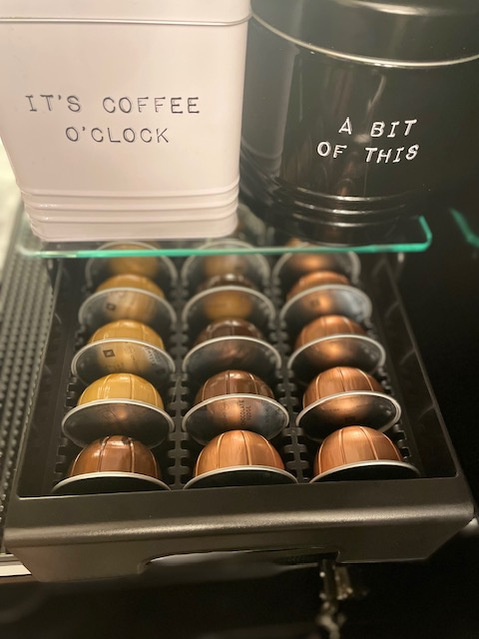 Storage solutions for my Keurig pods, creamers, sugar and syrups are all clear acrylic Lucite containers. I used the new "The Home Edit" clear acrylic storage bin line from Walmart. Pictured below it's a steal at four bins and lazy Susan at only $24.99.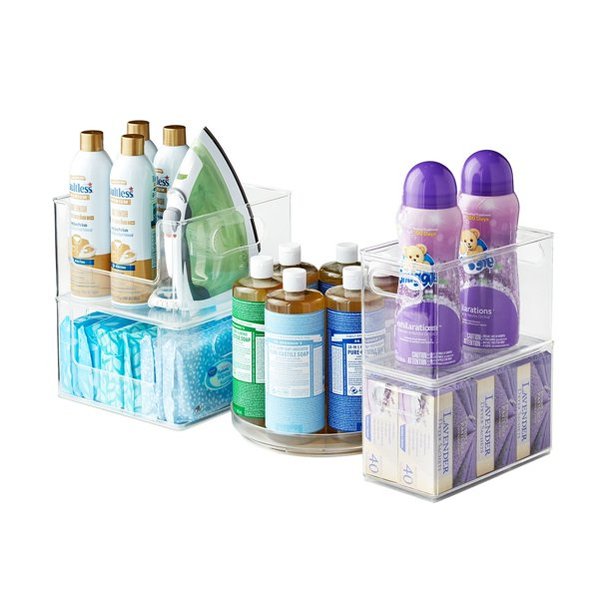 Want my neon coffee sign? It was a great steal on Amazon. My husband drilled holes in the back of the cabinet for cable management, so my set up looked nice. I used a special surge protector/extension cord for coffee machines that I bonded on the back of the cabinet, since most brewers cords are short.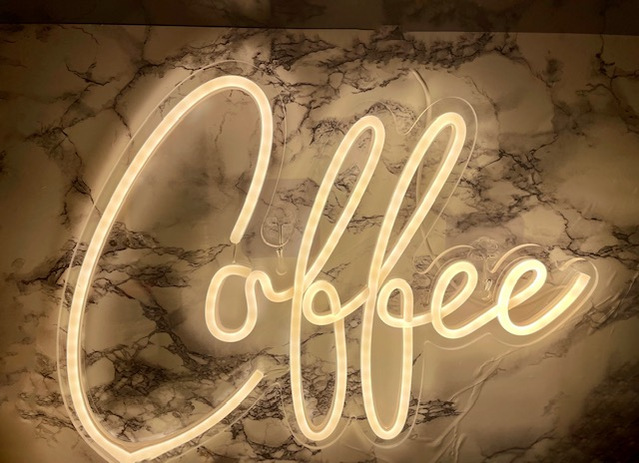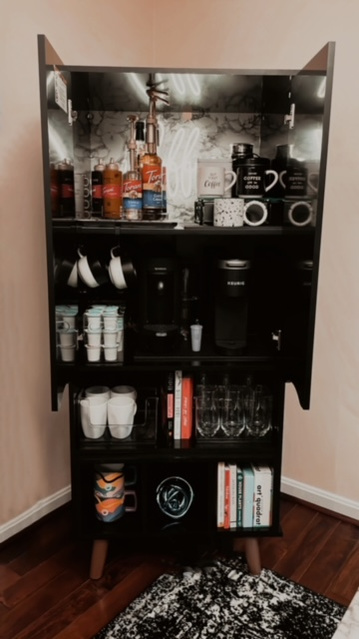 Have questions or comments?
Stalk me on:
IG: @artistically_adaptive
www.artisticallyadaptive.com